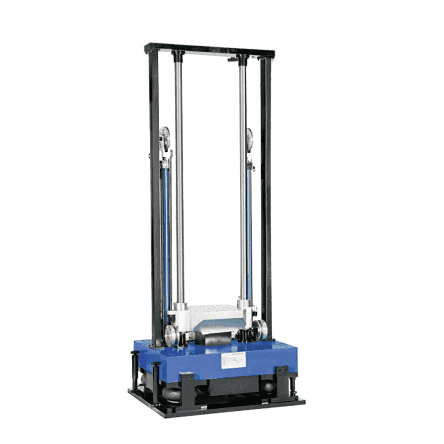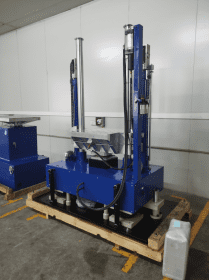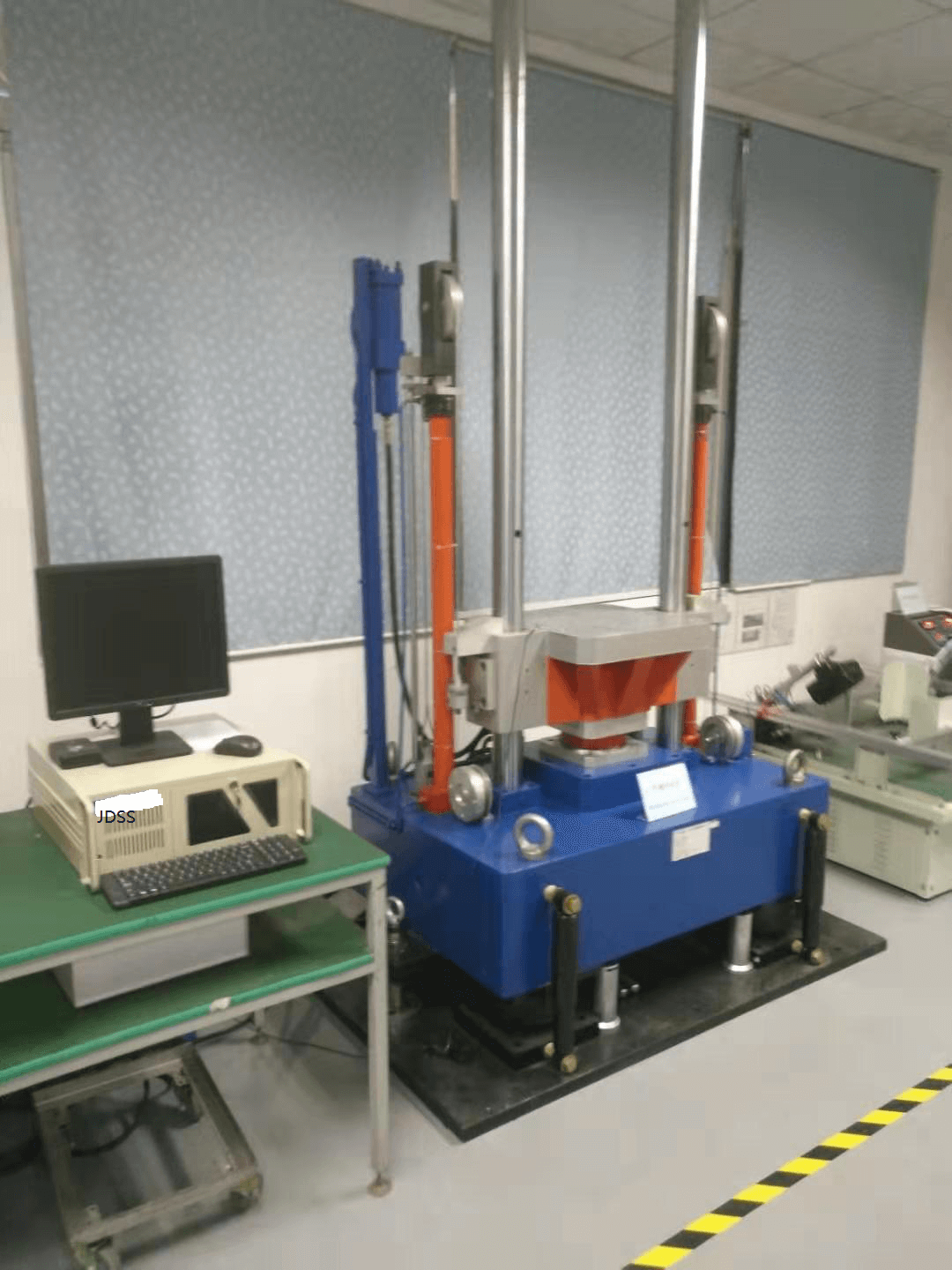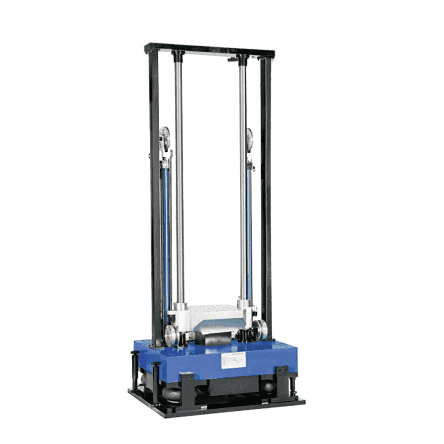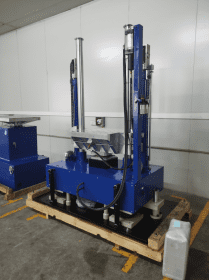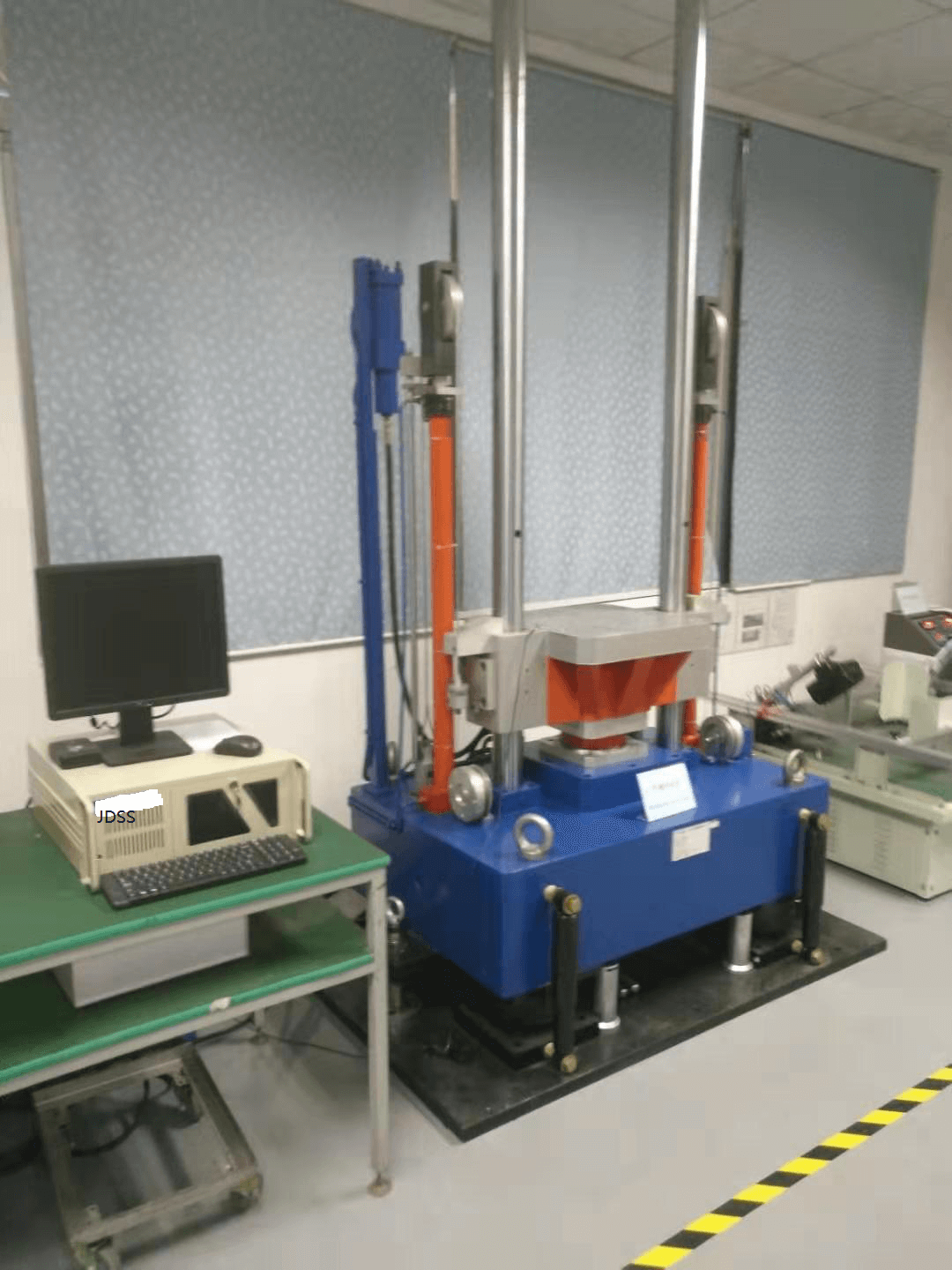 Mechanical Shock Test System
HUD-G809
Mechanical Shock Test System is a fully automatic pneumatic lifting vertical shock test system. It is used to measure and determine the impact resistance of products or packaging, and assess the functional reliability and structural integrity of the test product in a shock environment. Mechanical Shock Test System can perform various conventional classic shock tests to realize the shock wave and shock energy that the product is subjected to in the actual environment, thereby improving the system or optimizing the structure of the product.
It is vertical shock test equipment with novel design, high degree of automation, simple operation and convenient maintenance.
Specifications
Model
HUD-G809
Rated load (kg)
100

(including fixtures, test pieces, sensors, etc.)

W

orking way

Free fall, vertical shock
Shock pulse waveform
Half sine wave

Shock peak acceleration (g)
1

0~100

Shock pulse duration (ms)
4

~

40

Table size (L×W)
1000*

10

00

mm

(

or custom size)

Equipment installation requirements
Free foundation, air spring cushioning and damping
Power Requirements for Table
AC220V

±

10%

,

50Hz

,

2kVA

W

orking Environment

T

emperature

(℃)

0

~

40

H

umidity

(

25

℃)

≤

90

%

(non-condensation)

Stable air source

(

MPa

)

≤

0.8

S

ystem reliability

Average cumulative working time without failure ≥1000h;
The storage time of rubber products in a clean, normal temperature environment is not less than 3 years
Standards

MIL-STD-810 Method 516.5 Military / Classical Shock

MIL-STD-883 Microelectronics Shock

MIL-STD-202 Electronic Components Shock

TIA/EIA-455-14 Fiber Optics Shock

IEC-60068-2-29 Bump Shock

EIA-364-27 Electrical Connector Shock

RTCA-DO-160 Airborne Equipment Shock

GR-1209-CORE Component and Module Impact
Features
a)Windows-based stable control system: fully automatic remote-control interface, the operator only needs to input simple values, the IPS-2000 shock control & measuring instrument can accurately complete the shock test;

b)Full pneumatic drive shock, clean and environmentally friendly, simple structure and high reliability

c)Pneumatic drive greatly improves the shock test efficiency, maximum shock rate up to 120 times / min

d)The shock rate can be controlled by adjusting the gas pressure, and the shock rate can be continuously adjusted

e)High-performance cast aluminum table: cast aluminum table has high strength and hardness, as well as a higher first-order resonance frequency, low noise, and no clutter;

f)Complete measurement system: various waveform tolerance bands are stored in the system, which is convenient for users to adjust and apply, and automatically complete the test report generation after the test is completed;

g)The controller has functions of door protection, runaway protection and zero signal protection to ensure the safety of the system.

h)Dual-guide pillar: combined with pneumatic balance lifting system, no noise, fully automatic positioning table;

i)Convenient installation: The equipment comes with a high-performance buffer and vibration isolation device, no special foundation is required, and the installation is convenient, safe and reliable.
Composition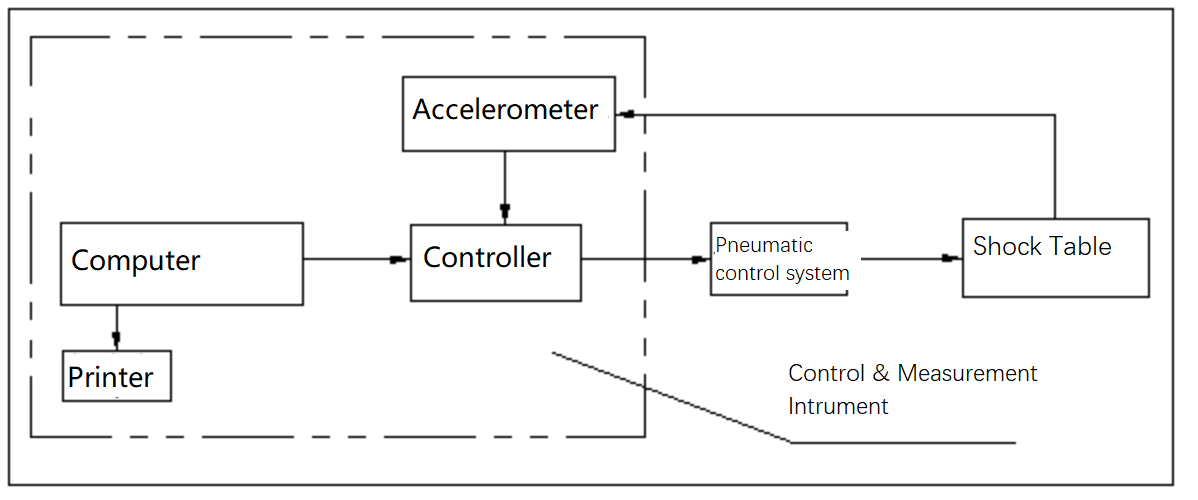 system block diagram
Shock Table

Mechanical Shock Test System is a pneumatic lifting vertical pressure shock tester.

Mechanical Shock Test System has an ingenious design, simple and reliable structure. The test sample is installed on the worktable, which is guided by two high-precision sliding guides and can move up and down. The two cylinders are connected to the worktable by sliding guides. When the cylinders are inflated, the piston rod rises to drive the worktable to lift. The workbench is lifted. When it is raised to the set height, the cylinder quickly deflates, and the bottom surface of the worktable hits the waveform generator to complete a shock process. It can be seen from the above shock process that by adjusting the rising height of the worktable, different initial shock speeds can be obtained, and thus different shock overload values can be obtained; while changing the stiffness of the waveform generator, different pulse width value can be obtained. With the coordination and cooperation, various shock test waveforms that meet the design index requirements can be obtained. By adjusting the input air pressure, the shock frequency can be controlled to meet the test requirements.

Mechanical Shock Test System is equipped with a half sine wave generator. The half-sine wave generator is mainly made of engineering rubber (considering the stiffness and cohesive force of rubber) and felt pads of various thicknesses. Different thicknesses are connected in series to form multiple stiffnesses to achieve different shock pulse widths.

Pneumatic Control System

The pneumatic control system supplies air to pneumatic components such as cylinders.

The pneumatic control system includes the lifting cylinder and all kinds of pneumatic control valve control and air pressure indicator.

The compressed air is of low pressure below 1.0mpa, and the selected compressed air power system.

In pneumatic control system, the filter is used to remove dirt from the air source, and the filtered gas is supplied to the required air pressure through each pressure reducing valve.

The lift switch valve and the lift inlet valve are responsible for supplying air to the two lift cylinders.

The pressure control elements and the control buttons of the solenoid control valve are installed on the air control board and integrated with the platform body.

Control and Measurement Instrument

The control and measurement instrument mainly control the lifting of the shock table, the acquisition and processing of the height signal and the signal acquisition and processing of the acceleration sensor.

The software of IPS-2000 includes two functions: control and measurement. The measurement system is mainly used to measure the acceleration, pulse duration, speed change and other shock test parameters during shock process, and all the measurement data can print out directly. The maximum sampling rate of the acquisition channel is 192kHz.

Software

With the measurement range setting function, effectively improve the signal resolution;

Automatic gain adjustment, FIR digital stepless filtering;

With the function of automatic measurement of shock waveform, it can automatically display the parameters of shock acceleration peak, pulse width and speed change;



Related Products
From the source of materials to product packaging full testing